I think I'm doing it... Yup. Yeah, I'm doing it.
I've got 9,
(possibly 11)
"holiday" books waiting:
1225 Christmas Tree Lane
- by Debbie MacComber - zomgPUPPIES!!!1 (probably no sex though...)
Christmas Eve at Friday Harbor
- by Lisa Kleypas
A Wallflower Christmas
- by Lisa Kleypas - Finally got a copy!
A Virgin River Christmas - by Robyn Carr -
UPDATE: might switch this with another one
Bring Me Home for Christmas - by Robyn Carr
- maybe not, since it's Book #16 in the Virgin River series - undecided...
The Inconvenient Duchess
- by Christine Merrill - For
Bebe's book club
Season for Surrender
- by Theresa Romain -
SBTB Sizzling Book Chat
Christmas Conspiracy
- by Robin Perini
A Holiday to Remember
- by Helen R. Myers
Holiday Sparks
- by Shannon Stacey
Switched
- by HelenKay Dimon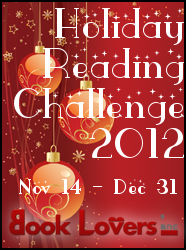 Challenge Rules:
1. The BLI Holiday Reading Challenge will start on November 14 and will end on December 31.
2. You can read as many holiday themed books for the challenge as you wish, pick your level:
Santa's Helper:
read 1-3 holiday themed books
Serial Mistletoe-er:
read 4-6 holiday themed books
Candy Cane-aholic:
read 7 or more holiday themed books
3. The books you read for this challenge must all be holiday related books. The holiday doesn't matter, it can be Christmas, Hanukkah, Kwanzaa, etc. and the story can have any connection to the holiday (for example set around Christmastime, or having Santa or an elf as a character, the cover being festive, featuring snowflakes, etc.).
4. The format, length or genre of the books do not matter, they can be ebooks, paperbacks, audiobooks, and short stories and novellas do count as well. It's okay for the book to overlap with other challenges. The only thing is that they can't be children's books, but YA novels are good. Re-reads are also fine.
5. Start the challenge by
signing up
!
Should I read
Christmas Male
? (See post below: It got mixed reviews,
but it's D.C. with the Capital Building on the cover
-
and
it's Christmas-y.
And
action/drama. Make it twelve?
Twelve Days of Christmas?
)